'Fudge Nut Brownie Cake'@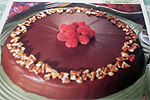 @
Ÿή—Ώ
1/2 Cup dark corn syrup
1/2 Cup Butter or Margarine
1 Cup Semisweet Chocolate Morsels
1/2 Cup Sugar
3 Eggs
1 Teaspoon Vanilla extract
1 Cup all purpose hour
1 Cup Chopped walnuts
@
Ÿή—Ώ@Glaze:
@
2/3 cup semi sweet chocolate morsels
2 tablespoon dark corn syrup
2 teaspoons milk chopped nuts and fresh raspberries for topping.
@
@
Ÿμ'θ•ϋ
1. Grease and Flour a 9 inch round Cake pan. Combine Corn syrup and Butter in a SaucePan. Bring to a boil. String continually. Add Chocolate and Stir until melted. Remove from heat.

2. Add Sugar, Eggs and Vanilla. Stir until well combined. Blend in Flour and Walnuts. Preheat Oven 350f.

3. Pour mixture into prepared Pan. Bake until a toothpick inserted in center. About 30 minutes. Cool in Pan for 10 minutes. Loosen Cake Eggs: Turn out into Rack to cool.

4. For Glaze combines Chocolate, Butter and Corn Syrup in a SaucePan Cook over low heat until Chocolate melts. Remove from heat; Stir in milk. Pour glaze over cake. Let stand top with Nuts and Berries.
@
'Cheesy mixed Vegetable Bake '@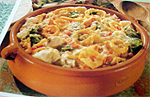 Ÿή—Ώ
1 Package frozen mixed broccoli, Carrots and Cauliflower.
1 Can chopped Pimiento drained divided.
1 Can Golden mushroom Soup.
1/3 Cup Sour cream
1 can French dried onion divided.
1 Cup shredded Swiss cheese, divided.
@
@
Ÿμ'θ•ϋ
1. Preheat oven to 350F. Grease a large casserole dish. Combine Vegetables half of the pimiento soup sour cream, Paper, half of the fried onions and half of the Cheese in a bowl mix.

2. Spoon mixture into prepared casserole. Bake for 20 minutes.

3. Sprinkle remaining fried onions and Cheese on top of casserole. Bake casserole for 5 minutes longer.

4. Remove casserole from Oven. Sprinkle with remaining pimiento let stand for 5 minutes before serving.
@
@
'Savory stuffed park chops.'@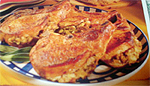 @
Ÿή—Ώ
2 tablespoon butter.
4 Pork chops.
1/2 Cup chopped onion.
1/3 Cup Sour cream
1 Cup bread crumbs
1 table spoon vegetable broth.
@
@
Ÿμ'θ•ϋ
@
1. Preheat Oven to 350 F. Trim fat from chops. Cut a 2-inch Pocket in each pork chop. Sprinkle inside of each Pocket with salt and Paper. Set aside.

2. Melt butter in a large skillet over medium heat. Add Onin and mushroomΥs saut_ until tender remove from heat stir in Sage Salt Paper and Breadcrumbs.

3. Add enough broth to moisten and hold stuffing together. Spoon stuffing into pockets.

4. Secure Pockets with kitchen knife or toothpicks. Place chops in baking dish add removing broth cover and bake for 30 minutes. Remove covers bake for 20 minutes or until tender.
@
@
@
@
@
@
@