※※※※※※※※※※※※※※※※※※※※※※※※※※※※
Hungarian sweet bread for 12 pieces: Kalacs
※※※※※※※※※※※※※※※※※※※※※※※※※※※※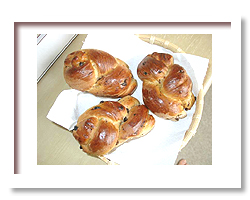 --材料--
500g flour
50g powder sugar
2,5 dl milk
2 ts jeast
1 ts salt
2 eggyolk
50 g butter or margarin
40 g raisin, or dried blueberries, dried finally chopped apricot
1 egg for the top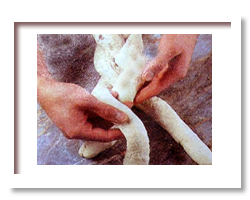 --作り方--
Mix well- untill the dough will bubbling- all the indegridients without the last egg.

Cover with a clean cloth and leave it in warm place for 30 minutes to rise up .

Devide into equal pieces ( around 12 ) , and every pieces for three smaller lines.

Spin every pieces.

Leave it for another 10 minutes, spread the top with the mixed egg, and put into the preheated owen -200 C -for about 25 minutes.

Serve with butter or margarin. You can keep it for 1 or two days without fridge.

In Hungary we eat it for breakfast with margarin and with honey or marmalade.

Drink milk with them. Good appetite!