■Tandoori chicken: (Salt to taste)■Number of serving 7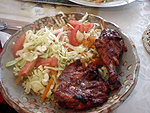 ◆材料
14 pcs Chicken
3 big spoons natural yoghurt(curd)
ginger (juice only)
少々 red chilli powder
lemon juice
1/2 small spoontandoori masala powder(See "Pickles and Spice Mixes" section)
Salt
6 small spoons Salda Oil

*レッドチリパウダーは入れると辛くなるので、お好みで


Mix everything well and marinate the chicken in the mixture for over 6 hours. Barbecue the marinated chicken.


◆作り方
Make slanting gashes on the chicken on all sides.

Marinate the chicken in the combined masala for about 4 hours.


Prepare a baking dish and brush the bottom of the dish with a little oil.
Carefully place the chicken pieces in the center of the dish and brush with some oil on top.

Pour any remaning marinade into the dish and bake in a moderate oven at 375 deg F till the chicken is done and becomes golden brown at the top.

You might have to turn the chicken over a couple of times to get a uniform browning effect.



■Egg Pudding/Caramel■ Number of serving 4


◆材料
Eggs 8 Milk
2 1/2 cups
Sugar 16 small spoons


◆作り方
1. Mix eggs in a bowl and add granulated sugar

2. Place milk in a pan and heat in mild heat. Heat slightly until body temperature.

3. Favorite(Add 2 to 1 and mix brandy )and vanilla oil and filter.

4. Take away the bubbles on surface and pour into the chilled pudding cup. Prepare steamer with wrapped cloth on lid.

5. Place in steamer evenly and heat slowly in mild heat. Give approximately 30 minutes for steaming

6. To check for finish, place a tooth pick into the pudding. The pudding is finished if no liquid drops from the pudding.

7. Put in refrigerator and chill well