' Potato Wada'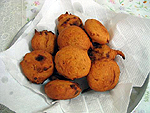 Ÿή—Ώ For Vadas
3 large potatoes, boiled, peeled, mashed well.
1 tbsp coriander finely chopped(optional)
1 tsp red chilli powder
1 tsp. ginger grated
1 tsp. garlic crushed
1/2 tbsp. lemon juice
1/2 tsp. Turmeric
1 tsp Coriander powder
1tsp garam masala powder
salt to taste
oil to deep fry

For Batter
1 cup gram flour
1/4 cup rice
1 tbsp. hot oil
salt to taste
water
Mix all ingredients of batter to form a dip thick enough to thickly coat back of a spoon.
Keep aside.


Ÿμ'θ•ϋ
Take the smashed boiled potatoes and add ginger, garlic,turmeric powder, coriander powder, red chilli powder, garam masala, salt, lemon juice, coriander leaves if you like and gently mix well.

Make small ball size balls and flatten it a little on the top. Keep aside. Heat oil for frying.

Dip one ball at a time in batter and gradually let into the hot oil.

Deep fry till golden brown, turning as required. Fry 5-6 in a batch.

Drain. Serve hot with tomato sauce

Making time: 45 mins.

Serves : 4-5 (approx. 10-12 balls)



'Tapioca@Kheer'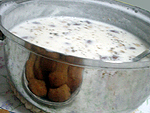 Ÿή—Ώ
'PD Milk|'Scups
'QD Tapioca 4 tablespoons ( in india tapioca is called Saago)
'RD Sugar 1 cup
'SD Cashew nuts Few about 7 or 8 nuts ( cut into small pieces)
'TD Raisins Few
'UD Cardamom powder 1/4 teaspoon ( crush 4 whole cardamoms)
'VD Saffron One pinch (Optional)
'WD Coconut milk ( Optional)


Ÿμ'θ•ϋ Method:

1. Wash and soak tapioca in water for about 15 minutes. After it is soaked drain the water.

2. Boil milk for about 4 to 5 minutes.

3. Add tapioca, cashewnuts and raisins and boil till tapioca is done ( about 5 minutes)

4. '`dd sugar and stir.

5. Add saffron and cardamom powder and remove from fire.



'Green Peas Rice'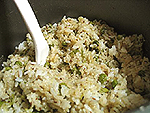 Ÿή—Ώ
Rice F2 cups
Garam masala powder - 1 tsp
Cumin seeds- 2 tbsp
Green Peas - 1 cup
Cashew Nuts - 5 or 6 pieces
Oil or butter- 1 tablespoon.
Salt
Water - about 3 cups


Ÿμ'θ•ϋ
1. Wash and drain rice

2. In a pan, fry oil or butter and saut- the cumin seeds,,gre.en peas. Add salt and garam masala. After done fry cashew nuts that are cut into halves.

3. Ad the rice, salt as per your taste and cook the rice in cooker with water.

4. Serve the rice hot.