'Chole Curry i'Π'ζ'±"€'ΜƒJƒŒ[j'6 Servings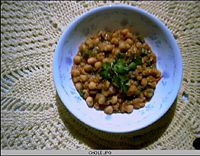 Ÿή—Ώ
1.5 cup chickpeas (soak for 6 hours)
6 medium tomatoes
4.5 medium capsicums
For Gravy
3 medium onions
1cm ginger
4.5 cloves garlic
METHOD
1.5 tsp. coriander powder
1.5 tsp. Garam masala
1.5 tbs. Oil for cooking
1.5 pinch of turmeric


Ÿμ'θ•ϋ
1.Boil chickpeas with some water until soft.
2.Make a coarsely paste of onions,ginger&garlic.
3.Put oil in a pan & add the paste ,stir for 2min.
4.Add coriander powder , turmeric stir for 1min
5.Add chopped tomatoes,cook for 3min.
6. Add boiled chickpeas ,salt &chopped capsicum.cookfor 5 min until it become little thick for serving with nan.
7.Finally add gharam masala cook for 1min.with lid on. The tasty& flaverd chickpeas curry is for you. If you like to use fresh cream you can add 2-4 tsp.



'Puris (Δ'«ƒiƒ"@20 Puris) '

Ÿή—Ώ
3 cups Whole wheat flour
3 tsp. oil
salt to taste
Oil for deep frying


Ÿμ'θ•ϋ
1.sieve flour with salt.Add water to make a hard dough by Kneading it well.
2.Cover it with a wet cloth and leave it for 15 minutes.
3. Make 1 cm diameter balls.
4.With the help of a rolling pin roll it into thin discs.
5. Heat oil in a frying pan. Deep Πfry the discs in hot oil for _ min. ,turn and fry till it is puffed and golden in color.



'Apple Raita'

Ÿή—Ώ 1 Big apples
3 Cup fresh yoghurt
1 tsp sugar
1 tsp black pepper powder or 1 tsp cheat Masala(ƒ`ƒƒƒbƒgƒ}ƒTƒ‰j


Ÿμ'θ•ϋ
1.Peel &cut the apple into thin small pieces.
2. Beat the yoghurt add sugar, salt black paper powder (or cheat masala)
3.Add the cut apple pieces, mix and serve either cold or room templeture.