'Chole Curry i'Π'ζ'±"€'ΜƒJƒŒ[j'
@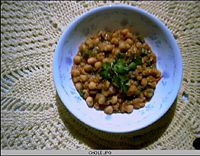 @
Ÿή—Ώ@4 Servings
1 cup chickpeas (soak for 6 hours)
4 medium tomatoes
3 medium capsicums
For Gravy
2 medium onions
1cm ginger
3 cloves garlic
METHOD
1 tsp. coriander powder
1 tsp. Garam masala
1 tbs. Oil for cooking
1 pinch of turmeric
@
Ÿμ'θ•ϋ
1.Boil chickpeas with some water until soft.

2.Make a coarsely paste of onions,ginger&garlic.

3.Put oil in a pan & add the paste ,stir for 2min.

4.Add coriander powder , turmeric stir for 1min

5.Add chopped tomatoes,cook for 3min.

6. Add boiled chickpeas ,salt &chopped capsicum.cookfor 5 min until it become little thick for serving with nan.

7.Finally add gharam masala cook for 1min.with lid on. The tasty& flaverd chickpeas curry is for you. If you like to use fresh cream you can add 2-4 tsp.
@
'Puris (ƒtƒ‰ƒCƒhƒiƒ"@20 Puris)'
@
@
@
Ÿή—Ώ
2 cups Whole wheat flour
2 tsp. oil
salt to taste
Oil for deep frying
Ÿμ'θ•ϋ
1.sieve flour with salt.Add water to make a hard dough by Kneading it well.

2.Cover it with a wet cloth and leave it for 15 minutes.

3. Make 1 cm diameter balls.

4.With the help of a rolling pin roll it into thin discs.

5. Heat oil in a frying pan. Deep Πfry the discs in hot oil for _ min. ,turn and fry till it is puffed and golden in color.
@
'Carrot Payyasam'
@
Ÿή—Ώ
500 gm Milk
4 medium carrots
2 tbp sugar
1 tsp butter
Cashunuts,almonds,pista each 1tbp
1tbp raisins
1tsp. cardamom powder
@
Ÿμ'θ•ϋ
@
1.Peel &cut the carrots into 1cm .

2. Boil with little water.cool it and make a paste.

3.Boil milk for 2min. Add sugar,paste & boil for 2 more min.

4.Take 1tsp butter roast nut & raisins for 1min .

5. Add roasted nuts raisins &cardamom powder. Cool it before serving.