■Aloo Paratha■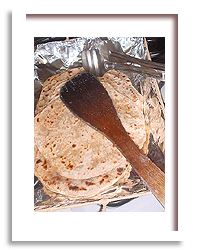 ◆材料
Potatoes mid. 2
Whole wheat flour 2 cups(attaというインドの小麦粉)
Coriander powder 1 tsp.
Cumin powder 1 tsp.
Garam masala (optional) 1 tsp.
Oil - 1 tsp.
Salt 1tsp.


◆作り方
1.Sieve the flour. Add oil and salt.
2. Mix whole wheat flour with water gradually and then knead to make dough. Cover with wet cloth and keep aside for 15 min.
3. Boil potatoes, peel, smash and cool.
4. Mix potato, coriander powder, cumin powder, garam masala. Divide into balls that are about 2 cm. In diameter.
5. Divide kneaded dough into same size.
6. Take 1 ball, sprinkle a little flour and make it a flat circle using a rolling pin, about 4-5cm in diameter. Put potato ball on top cover it. Then make flat with rolling pin until it become 15cm in diameter.
7. Cook on a flat pan at moderate heat for 3mins.Turn it & put 1tsp oil, spread it on & shallow fry over low heat. Turn it & again put oil on other side. Cook on a low heat till golden brown.
8. After cooking...EAT!



■Brinjal Bharth■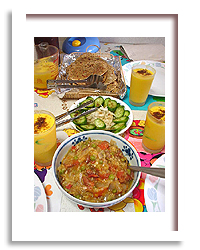 ◆材料
1.Eggplant 3 medium
2.Onion 1 big
3.Garlic Cloves 3
4.Ginger 2cm
5.Green chilies 1-3 (option)
6.Tomatoes 2medium
7.Cumin 1/2 tsp.
8.Peanuts 1tbs
9 Green Peas 2tlc 


◆作り方
1.Brush brinjals with oil & roast them directly on a gas burner.Keep turning at regular intervals until the skin becomes black.
2.Remove & transfer to a pan full of water ,cool peel the blackened skin & mash the flesh.
3.Heat oil in a pan ,add cumin after _ min.,add Peanuts fry until they become brown, add garlic ,ginger ,after a while add onion ,chillies.Cook until onion become slightly brown.
4.Add peas, tomatoes cook until tomatoes become soft.
5.Then add mashed brinjal ,mix it and add salt. Garnish with coriander leaves.


■Mango Lassi■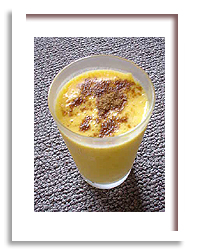 ◆材料
1.Mango Puree 1 cup
2.Yogurt 1 cup
3.Milk 4-5 cups
4.Sugar (your choice)
5.Roasted & ground cumin 1 pinch
6.Crushed Ice ( your choice)


◆作り方
Blend 1,2,3,&4 ingredients in a blender . Pour in, Season with cumin.

1)attaという粉
2) Garam masala
3)Mango Puree 他スパイス は アメ横 大津屋で入手できます
http://www.ohtsuya.com/main.html