@
'Chicken in Barbecue sauce'
@
Ÿή—Ώ
3 big size chicken breast
5 Tbsp  wine
5 Tbsp. soy sauce
2 Tbsp barbecue sauce
1 garlic clove, crushed
1 small onion, crushed
1 tsp black pepper 1 Tbsp.
soft brown sugar
1 Tbsp olive oil
1 Tbsp . mustard
@
@
Ÿμ'θ•ϋ
Preheat oven to 200 C . Rub chicken with olive oil and black pepper and put the chopped onion and garlic over it with few drops of water and let it cook about 20 to 30 minutes. Meanwhile, make up the sauce by simply adding them together. when the chicken has been cooking , then brush or pour the barbecue sauce over the chicken and cook for 15 to 25 more minutes., basting frequently.

'Saffron Rice'
@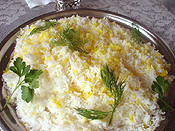 Ÿή—Ώ
4 cups rice 
1 teaspoons salt
2 cups water 
2 tablespoons olive oil
1/2 teaspoons Saffron
@
@
Ÿμ'θ•ϋ
Add rice, water, salt,oil and cook in rice cooker for 30 minutes.

Dissolve saffron powder with two tablespoons hot water and before serving rice pour on the top.


@
@
@
'Fudge American Brownies '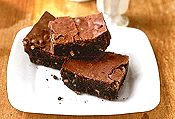 Ÿή—Ώ
1/2 cup margarine or butter
50 grams chocolate
one cup sugar
2 eggs
3/4 cups flour
1/2 cup chopped Walnuts(optional)
@
@
Ÿμ'θ•ϋ
Grease an 8x8x2 inch baking pan. melt butter and chocolate. remove from heat, stir in sugar.

Add eggs beat lightly, just until combined(don't overbeat or brownies will rise too high, then fall) stir in flour and nuts.

Spread batter in pan. bake in 350 F or 180 C for 20 to 30 minutes. Cool.

cut into 16 bars.
@