'Green Rice'6 Servings

Ÿή—Ώ
Spinach 1 pack
Onion 1 big
Oil 1/2 cup
Rice 2 cups
Cinnamon 1stick
Green chilies 3- 6
Salt for taste


Ÿμ'θ•ϋ
1. Wash & cut spinach & grind to make paste.
2. Chop onion & chillis
3. Take oil in a pan & add onion, cinnamon, chilies Fry until onion become slight brown then add spinach paste & add salt& cover it with lid. For 2 min.
4. Add cooked rice &mix well.
5 After 3 min. take out from fire & serve.



'Rawa Ladoo'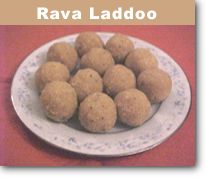 Ÿή—Ώ
Semolino 1cup
Grated coconut 1 cup
Sgar 1cup
Butter 1tbl
Milk 1-1/2 cup (Boil )
Cashunuts,Pista,raisins
Cardamom powder 1/2 tsp


Ÿμ'θ•ϋ
1.Take butter in a pan roast nuts & raisins.Then add semolina roast for 3-5 mins.
2. Add coconut mix well & add sugar.Take out from the fire & pour it in another bowl.
3. Mix cardamom & add milk slowly to make small round balls of size 2 cm diameter. Store it for 10 to 15 days.



'AVIAL (Cooked vegetables in spiced yogurt)'

Ÿή—Ώ
Thick yogurt 2 cups
Green chilies 2
Cumin 1tsp.
Coconut 1tbl (Grated)
Any vegetables (Except sticky, bitter) 2 cups(300gms)


Ÿμ'θ•ϋ
1.Cut all vet. (Carrot, White pumpkin, Radish, Aspagaras) in lengthwise 2-3 cm.
2.Grind chillis, cumin, and coconut & add to the veg. And boil with little water.
3. Cool it for some time & add whipped yogurt& salt. And serve.