The main "Empanadas",
a traditional dish of Latin American food with different favors according
with differnts countries. The variation for our menu is called
"Chilenas".

Empanadas are made with a mixed of ground caw meat with onion, cooked eggs
and slices of olives and raisin for a little sweet taste, all this is cover
by dough made with flour and baked.

To side dished I select tomatoes of regular size stuffed with eggs,
cucumber
and onion and for dessert a gelatin of different favors and colors.


■Empanadas ■

◆材料  Crust
All purpose flour,
salt,
water
and butter


◆材料  StuffedGround meat
chopped onion
bread crusted
olives sliced
cooked eggs
raisin
garlic
salt & pepper


◆作り方当日御記入くださいませ☆









■Orange cheeze cream zerry■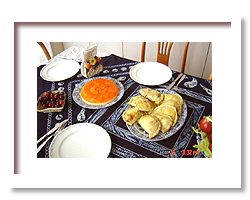 ◆材料
オレンジゼリーの素 1箱
クリームチーズ 1箱
パイナップル缶


◆作り方1.オレンジゼリーの素半分と素に必要とする水の量 をパイナップル缶の汁にかえ、中に小さくきったパイナップルを混ぜて冷蔵庫でかためる(型の半分)

2.1が固まったら、オレンジゼリーの素半分を水でといてクリームチーズにまぜ1の上にかけて固める






■Stuffed Tomatoes■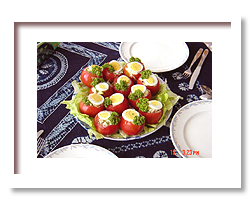 ◆材料Tomatoes
cooked eggs
spring onions
ham
cucumber
parsley
majones
yogurt
lemon juice
mustard
sugar



◆作り方当日御記入くださいませ☆