■Tamales■
TAMALES BOGOTANOS, this is a very traditional Colombian dish make with corn flour wrapped in bananas
leaves served with a coup of hot chocolate with spices and bread according with traditional custom of Bogot
the capital of Colombia.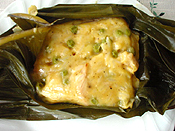 ◆材料
Pork meat cut in small cubes.
Chicken in pieces
Hard boiled eggs.
Beacon.
Sliced of carrots.
Sliced of potatoes.
Onions.
Green peas.
Corn flour.
Coked rice.
Salt & pepper.
Bananas leaves for wrape not for eat.



◆作り方
当日御記入ください
■Hot Chocolate■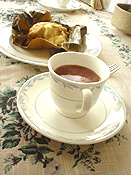 ◆材料
Milk,
Cacao,
Cloves and cinnamon.



◆作り方
当日御記入ください



■Postre de Limon■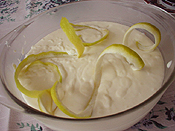 ◆材料
Flesh cream.
Condensed milk.
Lemon juice.
Chocolate biscuits.



◆作り方
当日御記入ください