■French Onion Soup■
◆材料
1cup butter
4 large white onions (2 lbs.), halved and thinly sliced
1 teaspoon sugar
1 tablespoon flour
3 cans (10.5 ounces each) condensed beef broth
1 cup dry red wine sliced French baguettes
white cheese slices
◆作り方
Heat broiler. Melt butter in a 5-quart saucepan over medium-high heat.

Add onions; stir to coat with butter.

Cover; cook 8 minutes, stirring occasionally.

Add sugar; cook for 1 minute. Stir in beef broth, 1 broth can of water, and red wine.

Simmer covered.

Toast baguette slices and place in the bottom of ovenproof bowls.

Place bowls on a baking sheet. Pour soup in each bowl, and top with a slice of cheese.

Broil for 3 minutes or until cheese is melted.
■Tomatoes Provencale■
◆材料
4 medium firm, ripe tomatoes
1 clove garlic
1 teaspoon salt
2 tablespoons butter
4 tablespoons soft white breadcrumbs
1 cup (2 ounces) finely grated sharp cheese
◆作り方
Wash and wipe clean tomatoes.

Halve crossways and place on a foil-lined broiler tray.

Preheat broiler. Crush garlic with salt.

Heat butter in a small pan and add the garlic.

Remove from heat before garlic has a chance to brown.

Combine garlic butter with the breadcrumbs and mix well.

Stir the cheese through the breadcrumb mixture and top the cut surfaces of the tomatoes with it.

Place under the preheated broiler for a few minutes until the cheese mixture is golden.
■Quiche Lorraine■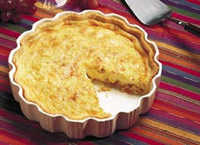 ◆材料
1 ready-made frozen pie crust, thawed
4 ounces sliced bacon
3 large eggs, lightly beaten
1 _ cups whipping cream
1 _ teaspoon salt
1 _ teaspoon ground pepper
pinch of ground nutmeg
◆作り方
Fry the bacon until almost crisp.

Crumble and place on pie crust.

Beat together remaining ingredients until smooth and well-blended and pour the resulting custard over the pie crust.

Bake in a preheated oven at 375 degrees Fahrenheit for 25 to 35 minutes, or until top is lightly browned and custard is well set.