■Tostadas■
◆材料
a medium onion chopped
1 tomato, chopped
5 T. oil
a head of shredded lettuce
1 Cup cheese, shredded
1 can refried beans or made homemade
1 can diced tomatoes
2 to 3 chicken breasts
1 teaspoon cumin
2 teaspoons garlic salt
2 teaspoons salt
2 teaspoons pepper
1 teaspoon oregano
Pinch of basil
1 cup water


◆作り方
Simmer chicken in water and add water, onion, 1-teaspoon salt, garlic salt, and 1-teaspoon pepper.

Add more water if the chicken gets to dry whole cooking.

Cook until chicken is completely cooked.

Drain the chicken saving the broth. Let cool.

Empty the can of beans into saucepan and cook on low.

Shred chicken into a medium skillet. Add diced tomatoes and the rest of the spices and mix.

Heat a small skillet with the oil and fry each corn tortilla until crispy. Pat on a paper towel.

Spread refried beans on the crispy tortilla add chicken, cheese, lettuce and tomato and enjoy!



■Spanish Rice■

◆材料
1 can diced tomatoes
1 cups white rice
2 to 3 cloves fresh garlic
1medium onion
1 teaspoon cumin
1 teaspoon salt
1 teaspoon pepper
1 teaspoon oregano
1 teaspoon garlic salt
2 Tablespoons oil
1 cup mixed veggies
2 cups water
◆作り方
In a medium saucepan add oil, rice, garlic, onion, and spices. On high heat fry the rice until golden.

Add diced tomatoes, mixed veggies and water. Bring it to a boil and turn on low and simmer for 20min.



■Fudge Brownies■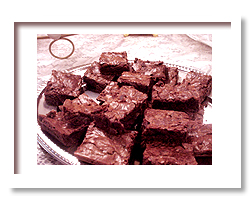 ◆材料
1C. butter or shortening
50g chocolate bar
1c. sugar
1 egg
2/3 c. flour
◆作り方
Grease an 8x8x2-inch pan.

Melt butter or shortening and chocolate.

Remove from heat.

Stir in sugar. Add eggs and beat lightly, just till combined (donユt over beat or brownies will rise too high, then fall) Stir in flour. Spread batter into pan. Bake in 350 F oven for 15 minutes