■Chicken and Red Pesto Fettuccine■
◆材料
2 tablespoons oil
500g chicken fillets, sliced
2 cloves garlic, crushed
1/2 cup port, sherry or chicken stock
1/2 cup chopped, drained sun dried tomatoes
1/3 cup pitted black olives, sliced
1/2 cup roughly chopped fresh basil
1 1/2 cup cream
1/3 cup parmesan cheese
250g fettuccine
◆作り方
*RED PESTO(RED PESTOは元町ユニオンで販売しています)
1/2 cup roughly chopped fresh basil
2 tablespoons Pinenuts(松の実) toasted
3/4 cup grated parmesan cheese
1 clove garlic crushed
4 table spoons chopped sun dried tomatoes
1/4 cup olive oil or 165ml prepared red Pesto.
Heat oil in a pan, add chicken in batches ; cook stirring, until chicken is lightly browned.

Add garlic, Port, Tomatoes, Olives and Basil; Bring to a boil.

Stir in Pesto. Cream and Parmesan Cheese; simmer , uncovered until sauce is thickened slightly

.Meanwhile , add pasta to large pan of boiling water, boil, uncovered until tender, drain.

Combine pasta with sauce in pan and toss gently. Red Pesto Blend or process all ingredients, except olive oil, until finely chopped.

Add oil gradually in a thin stream while motor is running; Blend or process until combined.
■Potato leek and Bacon soup■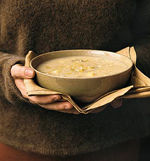 ◆材料
80 g Butter
200g Bacon
25 leaks
2 cloves garlic
4 stock celery
3 tablespoons thyme Bailiff
4 potatoes, peeled and cube
6 cups chicken stock ground black pepaer salt
1/2 cup sour cream
◆作り方
Melt butter, Add bacon, Add leeks and Garlic.

Stir in celery. Thyme , bailiff.

Add 4 potatoes, peeled and cube , 6 cups chicken stock.

ground black pepper and salt.

Stir in Sour Cream when serving.
■Vinaigrette Dressing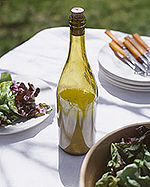 ◆材料
10ml=2 teaspoons Dijon mustard.
15ml=1 Tablespoons Tarragon vinegar or white wine vinegar (Red wine vinegar)
75ml=5Tablespoons extra virgin olive oil.
Freshly ground black pepper.
1 table spoons time.
◆作り方
To make the vinaigrette, Mix the mustard and vinegar in a small bowl, then whisk in the oil, 15ml/1 Tablespoons at a time.

Season and pour over salad.
■Raspberry and Chocolate Muffins
Makes 6 large or 12 small muffins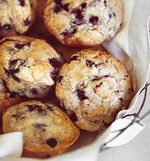 ◆材料
6 tablespoons unsalted butter, room temperature, plus more for tins
3 cups plus 2 tablespoons all-purpose flour
3 teaspoons baking powder
1 teaspoon salt
1 1/4 cups sugar, plus more for sprinkling
1 large egg
2 large egg yolks
1 teaspoon pure vanilla extract
1 cup milk
1 3/4 cups raspberries
◆作り方
1.Preheat the oven to 375度; butter large (3 3/4 inches) or small (2 3/4 inches) muffin tins, and set aside.
In a large bowl, sift together flour, baking powder, and salt; set aside.
2 In the bowl of an electric mixer fitted with the paddle attachment, cream butter and sugar on medium speed until fluffy, about 3 minutes.
Add egg, egg yolks, and vanilla; mix until well combined.
Reduce speed to low; alternate adding reserved flour mixture and milk to mixer, beginning and ending with flour. Remove bowl from mixer; gently fold in berries and chocolate by hand.
Divide batter among muffin tins; sprinkle generously with sugar. Bake until light golden, about 45 minutes for large muffins, about 30 minutes for small muffins. Cool in pan 15 minutes.
Remove from pan; transfer to wire rack, and let cool completely.