'Aji de Gallina (chicken chili) '
@
@
Ÿή—Ώ
breast chicken (4)
chili
1/2 cup parmesan cheese
3 tbspoon corn oil
evaporated milk (1 can)
crackers
chooped onion 1/2
oregano
cooked potatoes and diced(2 medium sizes)
Ground peanuts 1/2 cup
Chicken Broth
ccumin
garlic clove minced 3 Garnish

Garnish with boil eggs and flakes parsley
Ÿμ'θ•ϋ
1.Boil the chicken for about 10 minutes. Set aside chicken broth. Tear to shreds chicken, set aside.

2.Heat oil in frying pan. Add peanuts. Add chooped onion and minced garlic, salt, oregano, pepper, cumin.

3.Stir. Add chicken broth. Stir. Add chicken, chili. Mix crackers crumbs with milk. Add in to the mixture.

4.Add parmesan cheese, mix well. Add milk.

5.Stir vigorously until thickened. Remove from heat. Arrenge mixture over diced potatoes.

Spread dried parsley and diced eggs.
'Arroz Con Leche (Rice with milk) (Dessert)'
@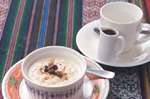 @
Ÿή—Ώ
3 liters of milk
rice 1/2 cup
sugar 2 cups or condensed milk cinnamon
sticks (2) ground cinnamon raisins (opcional)
ground coconuts
Ÿμ'θ•ϋ
Drench the rice the nigth before. Cook the rice with the milk and cinnamon sticks. Add sugar. Mix well until thickened. Add raisins. Remove from heat and transfer to a wire rack to cool. Spread with ground cinnamon.
@
@
'ƒTƒ‰ƒ_ƒ~ƒjƒƒ''
@
To make the vinaigrette, Mix the mustard and vinegar in a small bowl, then whisk in the oil, 15ml/1 Tablespoons at a time.

Season and pour over salad.
@
@
'Papas a la huancanya'
@
Ÿή—Ώ
1 pack of cottagge cheese
minced chili
olive oil 1/2 cup
lemon (1 teaspoon)
2 eggs (for garnish)
1 yolk egg
1 pack of crackers
5 potatoes
lettuce (for garnish)
salt
pepper
piece of onion
black olives (garnish)
Ÿμ'θ•ϋ
@
Boil potatoes with eggs until tender, then peel and slice; set aside.

Mix in the blender the rest of the ingredients (cheese, crackers, onion, olive oil, lemon, yolk egg, chili, salt and pepper)

Pour the mix over the potatoes and garnish with flakes of parsley and eggs, lettuce and olives.