'Chupe de Camerones (Shrimps Peruvian stile soup)'
@
@
'ή—Ώ
1 lb unpeeled raw shrimps
2 head fish (fish stock)
1/2 cup rice
1/2 can evaporated milk
1/2 cup fingers pumpkin
1 pack small eggs
1/2 cup parmesan cheese
2 medium potatoes
1/2 cup chopped fresh onion
3 cloves garlic minced
1 peeled and chopped tomatoe pinch saffron
1/2 tspn oregano
1/2 tspn parsley
2 tspn salt aprox.
1/2 tspn pepper
3 tbspn corn oil
1/2 tspn dried dill
1/2 cup corn
1 beaten egg
1/2 tspn minced chili
@
@
'μ'θ•ϋ
1)In a medium size saucepan, bring 2 liter water to boil; add shrimps, heads fish. Reduce heat to low; cover and cook for 10 minutes or until shrimps are pink. Remove only the shrimps and continue cook the heads fish for 15 more minutes. Discard the heads fish. Reserving the liquid, cool shrimps under cold water. Peel and devein shrimps.

2)In heavy saucepan, cook oil with onion, garlic, tomatoe, saffron, oregano, dried dill, pepper; simmer. Add fish stock (soup). Cook until boil. Add rice. Stirring. Add potatoes, Pumpkin.

3)Meanwhile, in small saucepan boil the small eggs for 8 minutes. Cool under cold water, peeled. Pour in to the soup.

4)Add the shrimps, parmesan cheese, corn, beated egg, milk and chili. Remove from heat.
@
@
'Escabeche de Pescado'
@
@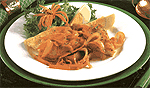 @
'ή—Ώ@
1 lb skinless fish fillet
12 tsp salt
1/2 tsp pepper
2 tbsp olive oil
2 diced onions
2 diced tomatoes
3 cloves garlic, minced
3 boiled eggs and diced
2 tbsp vinegar
1/2 lemon
2 tbsp finely chopped fresh parsley
1/4 tsp saffron
1/2 cup black olives
2 tbsp flour
1/2 tsp dried dill lettuce
1/2 tsp chili
@
'μ'θ•ϋ
1)Remove any membrane from fish; cut into 1-inch (2.5 cm) cubes. Sprinkle with a pinch of salt, pepper, garlic, saffron, and flour. In large nonstick skillet, heat oil over medium-high heat; cook fish for 5 minutes or until opaque and barely flakes when tested with fork. Transfer to plate.

2)In large saucepan, heat oil over medium heat, add onions, tomatoes, parsley, vinegar, lemon, garlic, saffron, dried dill and chili. Simmer. Pour sauce over the Fish. Decorated with lettuce, black olives and fresh chopped parsley and eggs.
@
'Chocolate Puding'
@
'ή—Ώ
3 tbsp cocoa
5 tbsp sugar
1/2 tsp vanilla esence
1 liter milk
3 tbsp maizena (cornstarch)
1 egg
'μ'θ•ϋ
1)In saucepan mix cocoa and sugar. Add milk, (keep 15 ml of milk to dissolve cornstarch) bring to boil in a medium heat. Stir. Remove from the heat. Add dissolved cornstarch slowly. Stir. Return to low heat until boil (1/2 minute).

2)Beated the yolk with a little milk. Pour in to the mix. Stir, add vanilla.

3)Beated the white off egg with pinch of sugar. Garnish over the pudin.