'Pepper Rellenos'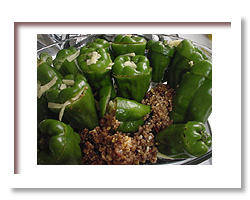 Ÿή—Ώ
8 large peppers
400gr. ground beef
400gr. pork
1 onion
1 cup of cream or milk 
l4 tablespoon aj panca molido / sundried red aji (chili) paste
3 small tomatoes cooked and peeled
cheese
8 tablespoons olive oil
cup dry white wine


Ÿμ'θ•ϋ
Cut the top part of peppers. Remove seeds and veins.

Saut garlic and onions with butter in a medium size pan.

Add aji panca and meats. Season with salt and pepper and mix well.

Add minced pepper (seeded and deveined. Finally add milk or cream. Mix thoroughly and set aside.

In a medium size skillet saut garlic in olive oil.

Add tomato paste and wine.

Let mixture cook for 5 minutes. Stuff peppers carefully with meat mixture.  

Place peppers on top.

Cover both with mozzarella and parmesan cheese.

Bake in a preheated oven 350 F (175 C) until cheese melts. Serve immediately.



'Choros a la Chalaca'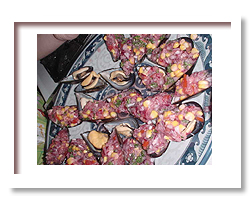 Ÿή—Ώ
1 dozen of choros
1 red onion
1 red pepper escabeche
2 small green red peppers
3 small branches of culantro itched
1/2 cup of choclo shelled and cooked


Ÿμ'θ•ϋ
1. To cook the choros in water with salt.

2. To extract the impurities, but to leave the choros in its shells.

3. Chalaca Sauce : In a medium container, to put the onion pricked in cuadraditos, ripening it with the juice of the lemon, you leave, pepper and the perforated red pepper. Soon him to ade choclo.

4. In a source, to place the choros (in its shells), covering each choro with the chalaca sauce and with culantro finely itched.
@
@
'Turron de Chocolate'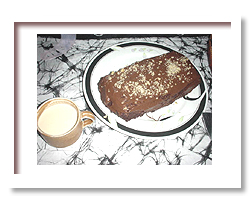 Ÿή—Ώ  
180 grs. of butter        
180 grs. of bitter chocolate        
180 grs. of worn out nuts        
180 grs. of sugar        
3 eggs        
raisins        
vanilla cookies 2 cups


Ÿμ'θ•ϋ
To very slowly dissolve the sugar.

To warm up butter with the chocolate and to beat until this mixture is very soft.

To add to the mixture of the sugar and, the nuts,  vanilla, and eggs.

Soon all the ingredients are united and the mixture in a square mold of about 20 cm. is placed is covered with aluminum paper and it cools off during the night.

To cut in buckets.

@