'Ocopa' 6 Servings


Ÿή—Ώ
7 oz lb (200 g) aji mirasol / sundried yellow aji (chili)
4 garlic cloves
4 medium onions,
4 vanilla biscuits
coarsely cut
12 nuts
Oil
huacatay
100 gr. of toasted
nuts
200 gr. of fresh
cheese
Milk
Olives, to garnish if you desire.


Ÿμ'θ•ϋ
Preparation Cut, seed, and devein aji / chili, using gloves.

Wash thoroughly with water, rubbing insides one against the other.

Place aji, onion and garlic on baking sheet and take to oven 350 F (175 C) until golden. Remove aj and place in bowl.

Boil cup water and immediately pour it over them; soak 4 to 5 hour.

This process will lessen hotness from the aji. Place aji with the water, onions, garlic, nuts and graham crackers in blender.

While blending, start pouring oil until mixture resembles a creamy sauce.

Season with salt.

Serve with slices of boiled potato, decorating with hardboiled egg, lettuce, and olive. 8 servings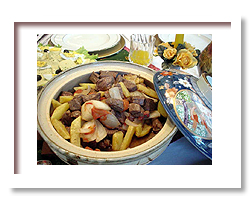 Ÿή—Ώ
2.2 lb (1 k) beef tenderloin, sliced into thin strips
k red onions, peeled
and cut into eighths
2.2 lb (1 k) of yellow potatoes, peeled.
3  fresh yellow chili sliced into thin strips
2 tomatoes cut in eighths
1 tablespoon balsamic vinegar
2 tablespoons soy sauce
1 cups oil
Vinegar
Pepper
Cumin
Coriander
Salt


Ÿμ'θ•ϋ
Heat cup oil in a large skillet over high heat.

Add beef and quickly saut until beef is seared and browned on all sides. Add salt, pepper and cumin.

Remove pan from heat and transfer beef to a plate.

Save covered. Return pan to medium-high heat and add 1 tablespoons oil. Add onions and saut until edges are seared and they begin to soften, about 2 minutes.

Transfer over the meat plate.

Add aji amarillo, tomatoes, parsley, salt, pepper, vinegar.

Saut until tomatoes have softened, about 2 minutes.. Heat cups oil in a large nonstick skillet over medium heat.

Add potatoes and saut until browned and tender, about 15 minutes.

Drain on paper towel.

Unmold rice in center of serving dish.

Place beef and french fries on each side.

Sprinkle with finely chopped coriander 8 servings



'Encanelado'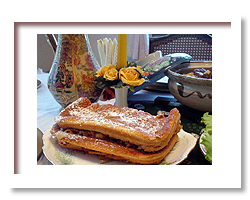 Ÿή—Ώ
10 eggs         
10 tablespoons of sugar         
7 tablespoons of flour         
3 tablespoons of cornstarch         
4 tablespoons of water         
2 teaspoons of vanilla extract         
cup of sugar powder         
5 tablespoons of cinnamon

Syrup:         
1 cup of water         
1 cup of sugar        

 (manjar blanco) condensed milk, boiled  (filling)



Ÿμ'θ•ϋ
Put the oven two 350F.

Grease a mold.

Stir all the eggs with the sugar until it becomes thick and soft. 

Add bit by bit the vanilla and water, with the electric stirrer on.

Sift cornstarch and flour over eggs mix softly. 

Bake 15 min. or till brown.

Cool aside.

Syrup: Boil sugar and water together. 

Mix well until dissolved. 

Approx.10 minutes. 

Cool aside.

Take out of the mold and cut horizontally. 

Wet both inside parts with manjarblanco (condensed milk), join two half together.

Sift together cinnamon and sugar. Put little bit more syrup over cake and powder with cinnamon and sugar.

Garnish with cinnamon sticks or mint leaves.