'Cashew Nut Chicken Curry'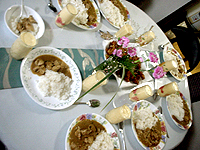 Ÿή—Ώ
Chicken - 300 gms
Onion 1
Cashew Nuts- 300 gms
Tomato -1
Butter Π 300 gms Cloves - 2
Cinnamon 2 sticks
Cardamom - 2
Ginger & garlic pasteΠ 1 tsp
Garam Masala powder- 3 tsp
Red chillies - 4
Coriander powder - 3 tsp
pepper - 1 tsp
Coriander leaves
Mint Leaves


Ÿμ'θ•ϋ@ ƒKƒ€ƒ‰ƒ}ƒTƒ‰

To Grind: Heat a pan, add ginger & garlic paste, Pepper, coriander powder, cloves, cinnamon, cashew nuts, cardamom, red chillies. Fry, and then grind them well.


Ÿμ'θ•ϋ
Heat 200 gms of butter in a pan, add the cut onions and tomatoes; after the onions and tomatoes are well fried, add the cut chicken,

Fry them and add the paste & salt.

And let the chicken cook well without any addition of water. Water in the paste and water from tomatoes is enough to cook chicken.

Reduce the flame and let the chicken cook for 25 minutes.

Add garam masala and red chillies.

Then add mint leaves and coriander leaves. Finally add the rest of the butter.

Serve hot with rice/chappathis


Tip:You can also add some lemon at the end to enhance the taste.



'Quick & Easy Pakodas'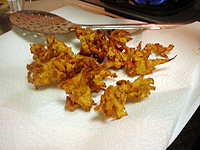 Ÿή—Ώ
Chickpea flour - 1/2 cup
Egg - 1
1/4 onion, finely chopped
2 green chilies, chopped or 1tsp chilli powder
2-3 tsp milk to make batter
Salt to taste
Oil for frying


Ÿμ'θ•ϋ
Mix together all the above ingredients into a thick batter. Use water if required.

Heat oil in a pan, drop spoonful of batter into hot oil and fry until they are golden brown in color.

Serve hot with tomato ketchup.



'Sweet Peach Lassi'

Ÿή—Ώ
Yogurt 3 cups
Sugar 4 tbsp
Sliced peaches 1 can


Ÿμ'θ•ϋ
Blend all the above ingredients in a mixer for 40 to 50 seconds.

Yogurt from high fat milk needs less time to form a good, thick froth.

Serve chilled.